FastSync trial instructions
Part 1 of 3: Setup
Step 1: Downloading FastSync

Download FastSync
The file FastSync.zip will be downloaded
Uncompress it and the file FastSync.jar will appear. Move it to the working directory of your preference
Step 2: Obtaining a Trial License
Fill out the "Contact Us" form by clicking on the button below. The Contact us page will be displayed. Mark the CTI's Fiat-Chrysler SFTP EMTS (new January 1, 2019 Interface) radio button
In the field Comments type "Requesting Trial License and your 5 digit FCA ID Number" and click on the Submit button

Contact US
Step 3: Wait to receive confirmation from CTI Communications
An eMail will be sent with the confirmation that your FCA ID Number has been added to the Trial Server
Step 4: Start FastSync and generate the SSH Public Key
The SSH Public Key will be used to enable passwordless access to the Trial server
Start FastSync
In OS X and Linux
Open the Terminal. Change to the directory where FastSync is located and type:
java -jar FastSync.jar
In Windows
Open File Manager and double click on the FastSync.jar icon
FastSync will be started
The Company Registration screen will appear. Fill out the blanks and click on the Next button.
The FastSync Configuration page will be displayed with default values. In the field FCA ID number type your 5 digit code and click on the Save button.
Step 5: Generate the SSH Public Key
In the menu goto Actions::Generate Public Key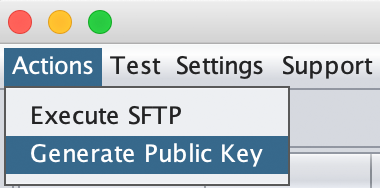 Check the "Send key by mail" check box and click on the "Generate Public SSH Key" button
A dialog box will appear confirming that the transaction was executed succesfully
Step 6: Wait to receive confirmation from CTI Communications
An eMail will be sent with the confirmation that your SSH Public kay has been added to the Trial Server to perform the transmiission of files with passwordless access.
Congratulations: The setup process is complete!!!

Goto Part 2